Custom hi-fi frame
10. September 2014
handbuilt for hi-fi guru
This is a special project we did for Mark Levinson. The task was to build a bike for him and here is the story…
Who is Mark Levinson
Mark is a living audio legend, the man who founded high end audio in 1974 and has been closely associated with its development for more then 40 years. Mark founded high-end audio components brand Daniel Hertz and cooperates with brands like LG Electronics and Petrof.
One of his ancestors was Heinrich Hertz, a well-known German physicist (yup, Hz unit is named after this guy). Marks roots leads also to Czech Republic, where his bike was made…
The bike
Hi-fi guru with Czech roots should also have a hi-fi bike with Czech roots. So we designed it for him. The frame was hand built by an engineer Jaromír Hrubý, who represents
Rozzo
brand name. He is probably the only man in the Czech Republic able to design and make such high-quality and innovative product.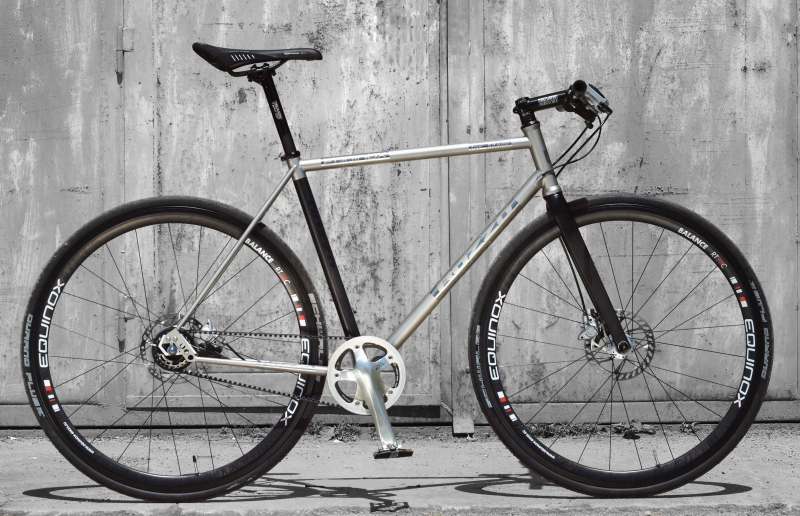 Rozzo Equinox Edition for Mark Levinson. Stainless steel and carbon. Handbuilt. With love.
The story behind
Jaromír Hrubý, the builder of Mark's frame answered our questions.
Did Mark have any special requirements?
It just happened like that. I had a picture of Mark in my head how he rides his bike to some kind of a studio. Because he is not a professional cyclist but an enthusiast I used components requiring almost no maintenance so he doesn't have to visit service center for a few years. At the same time the bike had to be elegant and suitable for city as well as for longer trips.
I have heard that they call Mark the "Golden ear". To make sure that he is not bothered with chain noises I have used Alfine with belt gear – and thanks to that the bike is very quiet.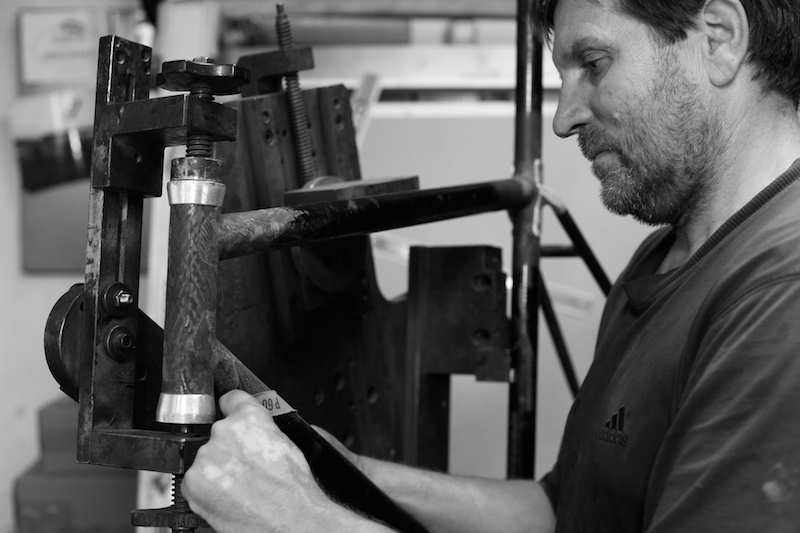 Jaromír Hrubý, builder of Mark's frame in full work.
What was the biggest engineering challenge?
I have been combining carbon with aluminium or stainless steel regularly but I still hold a great deal of respect for gluing methods. I have used well proven procedures to avoid visits to the service shop in the future. The frame is special thanks to division of its rear section. For the first time I have also used sandblasting and stainless steel polishing in my project.
Because the bike was designed for a world-famous hi-fi guy in what sense the bike is hi-fi?
For me it is definitely the stainless steel. When I got the task to design a bike for Mark I knew that stainless steel is the one. When I think of a set of high-quality custom-made speakers I imagine the ones I used to have a long time ago. They were all black with metal plating. I was impressed. Stainless steel with black components just go together very well.
Also the wheels, which are used in regular racing, are designed in hi-fi style. They make the structure lighter and thanks to their rigidity they also improve the transfer of force.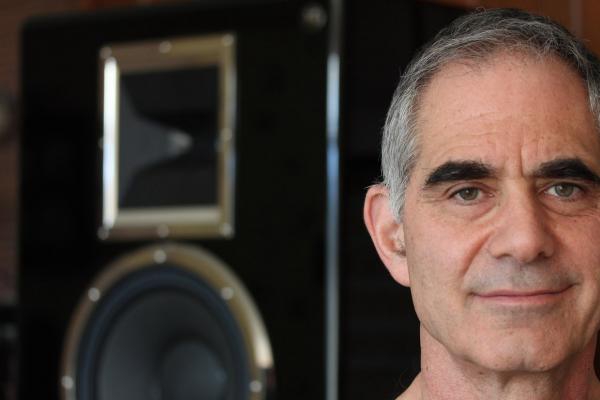 Mark with his speakers which are combining black finish and polished steel details. Those were an inspiration for the frame.
Do you plan to design something similar in the future?
Definitely not something identical. I never make two bikes identical. But I would like to make an orthodox road bike in a similar style. High-tech components, carbon wheels, as much carbon as possible plus some stainless steel is my vision. I hope to find the time though.
How long have you been manufacturing bike frames anyway?
Since 1990. During the 80s I have been doing various repairs and modifications which led me to frame designing. At that time you could not buy a good bike in Czech Republic so you had to modify and repair available standard bikes. I started to do modifications for my friends and then also for other people. I recall that immediately after 1989 I have left my job as a maintenance shop master and went on to frame repairing and building.
I also helped designing bike frames for other brand names /eg.
Pells
,
Festka
etc./ and then I founded my own brand. Rozzo.
So how many frames have you designed?
I do not keep perfect track because I am not a very tidy person. There were times when 1,600 frames per year were manufactured in Rozzo by 10 people. We have been manufacturing one of those frames until today. They are still in use. I have personally designed hundreds of individual frames for sure. Little has changed in handmade frames, one usually takes around 50 hours to build.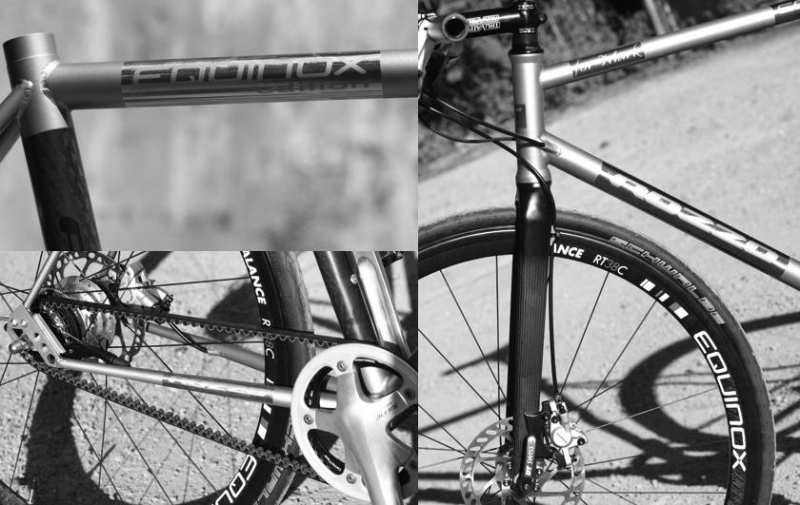 Details of Mark's bike. Full gallery on Rozzo website.
Do you have an old bike, a vintage bike? Those are very popular lately…
No, I m not a vintage bike collector. I like new things. I like to make bikes that look like they were made in the 90s. For me, those bikes were the most beautiful ones. That was the top you could do with metal. Beautiful frames. So I try to go back to that style somehow. That includes stainless steel too or a transfer of a steel frame shape into a carbon frame. Not to say that I do not like old things but I do like big contrasts and when the bike has a spirit. Modern materials and more classic shapes.
So where do you invest your money?
When I can, I buy something for a bike. I am an eternal experimenter and I largely support my development. When I am alone and I do not have any work for my customers then everything goes to my overhead expenses. I do it my free time. Over the week I work on orders and during weekends I design and do my own things.
What do you work on now?
Now I work for one well-known Czech brand on a concept of a totally new city bike. I cannot say more. I feel right at home doing it because it is a very classic frame shape combined with modern materials, especially carbon. But we are still in the testing phase. As I said it is a totally new concept, a complete redesign and that requires time.
Awesome! We can't wait to see that. Thanks for the interview.
Bike parameters
Frame:
Handmade Rozzo Equinox Edition, carbon/stainless steel
Fork:
Rozzo D
Equipment:
Shimano Alfine 11, belt gear
Components:
Truvativ
Brakes:
SHIMANO hydraulic disc brakes
Wheels:
Equinox Balance RT33, carbon
Seat:
Fizik Gobi